About Lena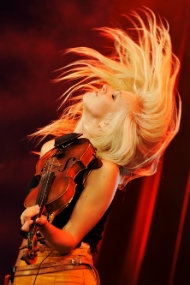 NEW ALBUM PLACES OUT NOW!
Renowned for her work in the Swedish folk scene, Lena Jonsson has spent over 15 years performing in the US, UK, Europe, Australia and Asia. Her ability to balance a deep knowledge of traditional Swedish folk music with innovative artistic sensibilities has made her one of the most distinct artists and in-demand musical collaborators in the folk scene. For Lena travel is not only part of the job, it is where she draws her inspiration. On her new album PLACES, she invites the listener "on tour" with each composition representing a distinct destination. Together with her trio (guitarist Erik Ronström and bassist Kristofer "Krydda" Sundström) as well as 13 guest musicians from the jazz, folk and pop genres, Lena takes us on a thought provoking fifty minute adventure.
Active bands:
Lena Jonsson trio
Limbohofvet - Swedish traditional fiddle trio
Skenet - Folk-rock band from Hälsingland
Lena Jonsson & Brittany Haas
The Goodbye Girls
Folk All-In Band
Duo Jonsson Coudroy - Swedish/Breton folkmusic duo
Musical Background:
1992 -- Began playing violin at the age of 6 in the Suzuki method, continued Suzuki until 18 years old.
1997- 2006 -- active in the progressive and creative youth folk music community in Hälsingland, Sweden. Recorded cds, travelled internationally, performed with symphony and folk orchestras.
2005– 2006 -- Studied folk music at the Falun Conservatory
2006-2010 -- Earned a bachelors degree in folk music from the Royal College of Music in Stockholm.
2008 – present-- Duo Jonsson Coudroy- Swedish/Bretagne folk music collaboration. Tours internationally and has released three recordings.
2010 - present-- Libohofvet- Swedish fiddle all-female power trio. Touring internationally, recording and performing mostly original music.
2011 - present-- Skenet- Progressive folk/rock band. Forthcoming release.
2012 - present-- Toured and performed with Swedish singer Sofia Karlsson, Abalone Dots, Anna Järvinen and progressive rockband Dungen. Played at Sweden and Denmarks biggest rockfestivals with Dungen, and at the Swedish folk and world music awards with Limbohofvet. Appeared several times on Swedish national radio and TV.
Awards and Scholarships:
2008 Riksspelman
2009 Pekkos-Gustafs hederspris
2009 Represented Sweden in the Nordic championship in Traditional music.
2010 Nominated Newcomer of the year at Folk and worldsmusic awards.
2010 Bror Hjort Stipendiet
2010 Bollnäs kommuns culture scholarship
2011 The Jernbergs scholarship
2013 Landstinget Gävleborgs culture scholarship
2014 Klingande Klenoder nominated Album of the year at the Folk and worldmusic awards.
2016 Nominated cross-over project of the year at Folk and worldmusic awards for duo with Brittany Haas.
Discography
Diskografi: Vågg (Duo Jonsson Coudroy, Bemol productions, 2009) Vind (Duo Jonsson Coudroy, Bemol productions, 2011) Funambules (Duo Jonsson Coudroy, DVD, Bemol Productions, 2011) Klingande Klenoder (Limbohofvet, Holmen Music, 2013) Allting Rullar (Skenet, Subliminal Sounds, 2015) Lena Jonsson & Brittany Haas (Lena Jonsson & Brittany Haas, Playing with Music, 2015) Snowy Side of the Mountain (The Goodbye Girls, 2016) Sur le Chemin (Duo Jonsson Coudroy, Compagnie Takatom, 2017) PLACES (Lena Jonsson, Playing with Music, 2018)