About Lena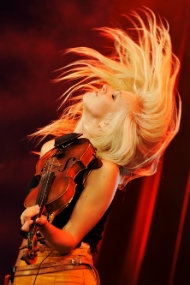 Lena Jonsson is a highly respected fiddler from Sweden. Her ability to balance her deep knowledge of traditional Swedish folk music with innovative artistic sensibilities is what makes Lena's playing stand out.
She was born in Hälsingland, a region in the middle of Sweden with a rich and active musical tradition. Growing up in a family of fiddlers, Lena started playing the fiddle at the age of six and performing by age 10, gaining national attention from her public performances. Her studies of Swedish folk music performance at the Falun Music Conservatory and The Royal Music Academy in Stockholm led her to become a highly sought after teacher and authentic performer of Swedish traditional music in Continental Europe and North America.
In 2012, Lena received an achievement scholarship to attend Berklee College of Music in Boston and study American roots music and jazz. She has received numerous performance and composing grants throughout her career, and has recorded on over twenty albums. She is in demand by American musicians as a collaborator and mentor of Swedish folk music. Lena tours regularly throughout Sweden and Europe with her projects Jonsson Coudroy, Brittany Haas & Lena Jonsson, Skenet, The Goodbye Girls and Limbohofvet.
Active bands:
Duo Jonsson Coudroy - Swedish/Breton folkmusic duo
Limbohofvet - Swedish traditional fiddle trio
Skenet - Folk-rock band from Hälsingland
Lena Jonsson & Brittany Haas
The Goodbye Girls
Folk All-In Band
Musical Background:
1992 -- Began playing violin at the age of 6 in the Suzuki method, continued Suzuki until 18 years old.
1997- 2006 -- active in the progressive and creative youth folk music community in Hälsingland, Sweden. Recorded cds, travelled internationally, performed with symphony and folk orchestras.
2005– 2006 -- Studied folk music at the Falun Conservatory
2006-2010 -- Earned a bachelors degree in folk music from the Royal College of Music in Stockholm.
2008 – present-- Duo Jonsson Coudroy- Swedish/Bretagne folk music collaboration. Tours internationally and has released three recordings.
2010 - present-- Libohofvet- Swedish fiddle all-female power trio. Touring internationally, recording and performing mostly original music.
2011 - present-- Skenet- Progressive folk/rock band. Forthcoming release.
2012 - present-- Toured and performed with Swedish singer Sofia Karlsson, Abalone Dots, Anna Järvinen and progressive rockband Dungen. Played at Sweden and Denmarks biggest rockfestivals with Dungen, and at the Swedish folk and world music awards with Limbohofvet. Appeared several times on Swedish national radio and TV.
Awards and Scholarships:
2008 Riksspelman
2009 Pekkos-Gustafs hederspris
2009 Represented Sweden in the Nordic championship in Traditional music.
2010 Nominated Newcomer of the year at Folk and worldsmusic awards.
2010 Bror Hjort Stipendiet
2010 Bollnäs kommuns culture scholarship
2011 The Jernbergs scholarship
2013 Landstinget Gävleborgs culture scholarship
2014 Klingande Klenoder nominated Album of the year at the Folk and worldmusic awards.
Discography
Diskografi: Vågg (Duo Jonsson Coudroy, Bemol productions, 2009) Vind (Duo Jonsson Coudroy, Bemol productions, 2011) Funambules (Duo Jonsson Coudroy, DVD, Bemol Productions, 2011) Klingande Klenoder (Limbohofvet, Holmen Music, 2013) Allting Rullar (Skenet, Subliminal Sounds, 2015) Lena Jonsson & Brittany Haas (Lena Jonsson & Brittany Haas, Playing with Music, 2015)