PLACES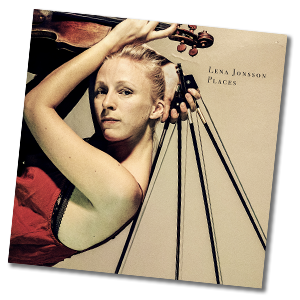 Dear listener, welcome to my musical travel journal. I wrote the tunes on this album inspired by places I've seen and people I've met. Me, Erik and Krydda have worked out the arrangements together and we hope that you'll enjoy your journey through PLACES!
Lena Jonsson Trio:
Lena Jonsson – fiddle
Krydda Sundström – double bass & electric bass
Erik Ronström – guitar
Antilopen — The Antelope
This is the newest composition on the album. I wrote the A part first, then went to watch a bandy game with my team Bollnäs. After that, I came home to write the B part. The tune feels kind of like a hunted Antelope.
Happy Penguin
This is a tune dedicated to the penguins in Planet Earth and their battle against the killer whale.
Dominic Leslie – mandolin
Margies
Margie was a close friend and my extra mum when I lived in the US. She was always happy and warm and she had a big heart. I think about her often, and miss her. This tune is for Margie.
Jon Antonsson — flute
Första snön — The First Snow
It's always a special feeling when the first snow fall. I'm happy, but I also think about that it's going to be six months of darkness and cold. There is no return!
Emma Ahlberg – five string fiddle
Petter Berndalen – drums
Bluesvals
This is the oldest tune on the album, and one of the first tunes I wrote. It came to me when I was in Bollnäs preparing for a weekend of teaching the Youth folk band GUF. This tune has followed me through the years and I've played it in several bands.
Filip Jers – harmonica
Staffan Jonsson – slide guitar
Högersvajpen — Swiping Right
This one is dedicated to the dating app Tinder!
Petter Berndalen – drums
Martin Coudroy – accordion
Brakpolskan — The Crash polska
Emma and Johanna in the fiddle trio Limbohofvet write amazing tunes. We were going to have a rehearsal weekend and I knew they had written some great tunes, and I had no new tunes, so I had to come up with something fast. So I wrote this tune in panic. Luckily they liked it!
Fri I Gaspesie — Free in Gaspesie
After an intense summer of tours and festivals I was in need for some vacation. It took place in Gaspesie, Quebec. I wrote this tune after a roadtrip along the Saint Lawrence river. The waves, the beach and the whales that I was hoping to see (but never saw).
Arvid Svenungsson – piano
Esset - The E flat
The folkmusic power-ballad of this album!
Jonas Knutsson – soprano saxophone
34:an
I lived in The Brighton House, a legendary folkmusic house in Boston when I studied at Berklee. This tune is a gift to my lovely roommates and friends from that time. It was a fantastic time!
Emma Ahlberg – five string fiddle
Rullen — The roll
I just couldn't make an album without a "Rullstråkslåt". Rullstråkslåtar are a very typical type of tune from Hälsingland, where I'm from. It basically means arpeggio tune.
Andra våningen — The Second Floor
This tune is composed on the second floor of the Brighton house. I wrote and arranged it for Berklee World strings, a string orchestra I was in when I lived in Boston.
Daniel Migdal — violin & viola
Jonas Bleckman – cello
---
PLACES
Kära lyssnare!
Välkommen till min musikaliska resedagbok. Låtarna på denna skiva är inspirerade av platser jag sett och personer jag mött. Jag, Erik och Krydda har tillsammans spelat fram låtarna till dess nuvarande form och vi hoppas att ni kommer att trivas på er resa genom PLACES!
Antilopen
Det här är den nyaste låten på skivan. Först skrev jag A-delen, sen gick jag på en bandymatch och hejade på när Bollnäs mötte Hammarby. Efter matchen skrev jag andra reprisen. Låten känns som en jagad antilop.
Happy Penguin
Tillägnad kungspingvinerna i Planet Earth och deras kamp mot späckhuggaren.
Margies
Margie Baron var en nära vän till mig och min extramamma när jag bodde i USA. Hon var alltid glad och omtänksam och hade ett stort hjärta. Jag tänker ofta på henne och saknar henne. Den här låten är till Margie.
Första snön
Det är alltid en speciell känsla när den första snön kommer. Jag är glad men tänker också på att nu är det sex månader av kyla och mörker utan återvändo!
Bluesvals
Det här är den äldsta låten på skivan och en av de första låtarna jag skrev. Den kom till när jag var i Bollnäs och satt vid köksbordet och skulle planera för att vara gästlärare för Gävleborgs ungdoms folkband. Den har följt med mig genom åren och jag har spelat den i flera konstellationer.
Högersvajpen
Denna schottis är tillägnad dejtingappen Tinder.
Brakpolskan
I fioltrion Limbohofvet spelar jag med Emma och Johanna som båda skriver riktigt bra låtar och jag hade inget att komma med inför vår rephelg. I en blandning av prestationsångest och panik skrev jag den här låten och jag blev trots allt rätt nöjd efteråt. Emma och Johanna gillade den också som tur var.
Fri i Gaspesie
Efter en hektisk sommar med turneér och festivaler hade jag äntligen semester! Den tillbringade jag i Quebec. Låten kom till på en roadtrip längs med Saint Lawrencefloden. Vågorna, stranden och de uteblivna valarna som jag hade hoppats på att få se.
Esset
En folkmusik-powerballad.
34:an
En hyllning till det legendariska folkmusikhuset The Brighton House och mina underbara kompisar som jag bodde med där när jag studerade på Berklee College of Music. Det var en fantastisk tid!
Rullen
Jag kan ju inte göra en skiva utan en rullstråkslåt. Så här är den, varsågod!
Andra våningen
Den här polskan är komponerad på andra våningen i The Brighton House. Jag skrev och arrangerade den till Berklee World Strings, en stråkorkester som jag var med i när jag bodde i Boston.